Tsaplin V.A. - Lead Programmer - Discrete models in mechanics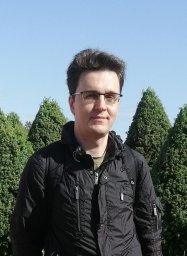 Position :
Lead Programmer
Web of Science ResearcherID :
Research interests :
Mechanics of deformable solids,
Mechanics of Discrete Media,
Nonlocal Interactions of Two-Phase Media,
Solid State Dynamics,
Computer Modeling of Mechanical Systems
Professional activity :
Engineer, JSC "Research and Production Association for Research and Design of Power Equipment named after I.I. Polzunov" (NPO CKTI) (1998-1999).
Lead Designer, Lab. "Methods and means of measurement", Institute of Problems of Mechanical Engineering RAS (IPME RAS) (2000 - 2003)
Lead programmer, lab. "Discrete Models of Mechanics", Institute for Problems in Mechanical Engineering RAS (IPME RAS) (2004 - present)
Engineer, Gazpromneft-Politech Research and Education Center (2019)
Junior Researcher, Gazpromneft Politech Research and Education Center (2020 - 2022)
Chief Specialist, Gazpromneft-Politech Research and Education Center (2022)